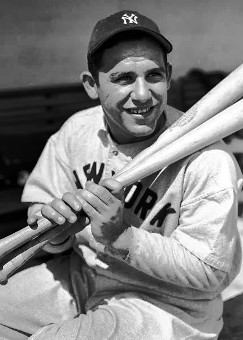 Image courtesy of New York Yankees
When You Come to a Fork in the Road, Take It:
A Few Words About Yogi Berra
| published October 4, 2015 |
By Kevin Robbie, Thursday Review contributor
Lawrence Peter "Yogi" Berra died recently at the age of 90. Although he retired as a player in 1965, Yogi remained active in baseball and was one of the most beloved players of his era. Popular as a player and manager, he became a living icon and unofficial ambassador of baseball. Yogi stood out for his achievements on the field, his intense love of the game, and his well-known disjointed statements—known as Yogi-isms—for which he became so famous that he even made humorous appearances on television commercials, including those for AFLAC and Miller Lite. To many people, Yogi Berra was the face of baseball.

Yogi Berra may have been the best catcher in baseball history, considering the numbers he compiled in his career. He excelled at what is arguably the most demanding position on the field for 17 seasons. Yogi, at only 5'7" tall and 185 lbs, caught in 1,699 games. He achieved a .285 lifetime batting average, hit 358 home runs and achieved an impressive .348 OBP (on-base percentage). Berra was known as one of the best bad-pitch hitters in the game and perhaps his most impressive accomplishment as a hitter was that he only struck out an incredible 414 times in 8,359 plate appearances. Yogi's best year was 1950, when he went to the plate 656 times and struck out only 12 times, a figure that may never be equaled. In spite of his short physical stature, Yogi covered the plate with great bat extension and an unparalleled mental tool: an intuitive sense of how a given umpire would call the strike zone.

Yogi appeared in 15 All-Star games and was the catcher and mainstay for 10 world champion Yankees teams. He was voted the American League's Most Valuable Player in 3 seasons, including back-to-back years in 1954-'55. Equally adept behind the plate, Yogi was a weapon for his pitchers as—using his agility and powerful throwing arm—he threw out 49% of opposing base runners who attempted to steal bases. His pitchers considered him a great game-caller and handler of pitches. Yogi even once caught an entire 22-inning game at the age of 37. Additionally, he was the first catcher to use his mitt with one finger outside the glove, a style many players emulate today. Yogi was elected to baseball's Hall of Fame in 1972.

Upon his retirement, Yogi managed the Yankees in 1964. They won the American League pennant that season but lost to the St. Louis Cardinals in the World Series. For his managerial accomplishments, Yogi was fired afterward. In 1965, he joined the lowly New York Mets and spent part of that season as a player/coach, retiring in May of that season. Yogi remained with the Mets as a coach and was named their manager in 1972 after the death of their previous manager, Gil Hodges. In 1973, the Mets won the pennant with Yogi at the helm, but they lost to Oakland in a seven-game World Series. Yogi was fired in 1975 whereupon he re-joined the Yankees and served as a coach for several seasons. Mercurial Yankees owner George Steinbrenner tabbed Yogi to be his manager for the 1984 season but fired him the next year. Yogi then joined the Houston Astros as a coach in 1986 and remained in that position until his retirement—his last retirement—in 1992. Yogi was one of only six managers to take a team from each league to the World Series.

His record as a manager was only 298-302, but Yogi was almost universally popular with his players. He was often described as positive and upbeat and he never let a slumping player feel sorry for himself. Yogi was the type of manager for whom players wanted to perform well. Although his was largely a laid-back style of leadership, players respected his experience and acumen on the field.

Yogi Berra was, however, not only known for his exploits on the playing field. He also became a household name for his often head-scratching, humorous statements. Among his most famous one-liners are "it's déjà vu all over again," "when you come to a fork in the road, take it," and "I'd give my right arm to be ambidextrous." Asked by a reporter about the loss of a critical game, he said "We made too many wrong mistakes!" When quizzed by a writer once regarding his infamous one-liners, he said blandly "Half the lies they tell about me aren't true."

Perhaps his most famous remark was uttered in 1973, when Yogi managed the Mets. The team was 11 games out of first place at roughly the season's midpoint. After one game, a reporter commented on the team's apparently slim chances for making the playoffs. Yogi replied flatly "it ain't over 'til it's over." The Mets ultimately won the pennant that season. The phrase soon transcended its origins as a malapropism, and graduated into the common vernacular, a sort of folk-wisdom statement used in equal parts by politicians, athletes and coaches, and journalists.

Yogi Berra's life is now over but he leaves an impressive legacy as one of baseball's all-time greats. His position in baseball lore is cemented by his achievements on the field while his status as a cultural icon is also assured.

Related Thursday Review articles:

Baseball Park Intimacy: Risk Vs Reward for Fans; Kevin Robbie; Thursday Review; July 2, 2015.

Cyberball, Major League Baseball & Information Security; Kevin Robbie; Thursday Review; July 4, 2015.