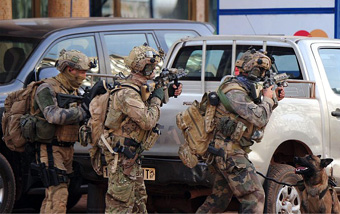 Photo Reiner Bajo/Courtesy of Warner Brothers
Jihadist Attack in Burkina Faso Leaves 28 Dead
| published January 16, 2016 |
By R. Alan Clanton, Thursday Review editor
Just as was the case a few nights ago in Charleston when the Republican debate turned heavily toward issues of foreign policy, terrorism and military preparedness, so too will foreign policy and the Islamic State take center stage for Democratic candidates set to debate in the same town Sunday.

Hardly had the dust settled in Indonesia, where militants linked to ISIS battled police and security in a crowded, busy downtown area frequented by tourists and westerners, when a similar attack began to unfold in the small African nation of Burkina Faso.

On Saturday, radical jihadists seized control of a luxury hotel in downtown Ouagadougou, the capital and financial center of Burkina Faso. Though most reports say that at least five attackers took control of the hotel and nearby restaurants and shops, police reports have later amended that to say that the militants numbered only four—two of them female.

All four attackers were killed by police and military units, three in the Splendid Hotel, and one inside the Hotel Yibi, a neighboring building within the same block.

According to media reports, in addition to the four militants, at least 23 more people were killed in the assault, which began late Friday night after heavily armed jihadists—clad mostly in black and wearing hoods—stormed into the hotel and a nearby café and began shooting indiscriminately. Many people ran for cover, but at least a dozen may have been killed within the first few minutes of the attack.

Police responded quickly, followed closely by military security forces. After a perimeter was set up around the area, a fierce gun-battle ensued between the jihadists and police. Heavy exchanges of gunfire and explosions could heard throughout the night. Burkina Faso's President, Roch Marc Christian Kabore, declared a state of emergency for the city and asked that civilians, tourists and businesspeople remain indoors until police and security forces could ascertain that all militants had been captured or killed.

The Associated Press and Reuters were each also reporting a separate incident—possibly unrelated—of the kidnapping of an Austrian physician and his wife near the border with Mali. Both had travelled to Burkina Faso to work as volunteers for war and relief efforts in areas where jihadists frequently battle with police or military, and in areas where ISIS and Boko Haram militants often terrorize entire villages and towns.

Intelligence experts doubt the kidnapping was directly linked to the attacks in Ouagadougou, and believe that the abductions may be a means to raise cash to pay for military operations by the terror armies. The doctor and his wife were abducted near the town of Baraboule, but according to police reports they were whisked away toward the Sahel region, near where the border of Burkina Faso intersects with those of Mali and Niger.

In Ouagadougou, police and security cordoned off the entire area, and witnesses and reporters say that heavy gunfire continued throughout the night, with sporadic shooting still going on well after daybreak Saturday. Police say that at least ten people died inside a small semi-enclosed café adjacent to the hotel, and another dozen or more died inside the hotel. At least 34 people were injured—many of them with gunshot wounds. Others were treated for a variety of cuts from broken glass and shrapnel, and at least a dozen people had sustained burns from the fires which broke out inside the hotel, or from fires from burning vehicles on the street.

In the wee hours, police and security forces in Burkina Faso were aided after the arrival of French army and French Special Forces units from Mali.

At least 126 people were freed from the 147-room hotel during the siege, or immediately after the siege had ended in the morning. Many of the survivors had holed up inside rooms, barricading themselves in bathrooms and closets as the militants went through the hotel room-by-room. Other survivors told police they pretended to be dead by remaining motionless on the floors. In the restaurant-cafe near the hotel, witnesses say the gunmen appeared to be singling out westerners and Europeans.

The militants responsible for the attacks are an al Qaeda affiliate known as AQIM, also known as the Islamic State in the Maghreb. The group has largely pledged its allegiance to ISIS, but according to some intelligence experts retains some links to al Qaeda. ISIS and jihadist websites proclaimed the attack a victory and rejoiced in "the fall of many dead Crusaders." Crusader is a term often used by ISIS and other jihadist groups to describe westerners or non-Muslims (especially Christians or Jews) who stand in the path of the expansion of the Islamic State. ON social media and on the web, both ISIS and al Qaeda praised the attacks.

Burkina Faso—a Muslim-majority country with a substantial Christian minority—has largely escaped the violence more often associated with neighboring Mali, Nigeria, Niger, Chad, Cameroon and the Sudan. Burkina Faso is considered a country relatively tolerant of its numerous religious minority groups, which included not only Christians and Animists, but also a wide variety of offshoots and denominations of several major religions. Burkina Faso is also a multilingual nation, where French, English, Mande, Bissa, and at least 65 indigenous languages.

But the small country began to encounter its first confrontations with jihadists last year after frequent incursions by militant groups operating in Niger and Mali, and after a Romanian aid worker was kidnapped last spring. Boko Haram and ISIS-linked groups in Africa do not recognize borders or boundaries, and have begun extending their violence into many countries in the region. The attacks in Ouagadougou bear a striking resemblance to recent attacks in Mali, Tunisia, Nigeria and last week's attacks in Jakarta, Indonesia.

Last week's ISIS militant attacks in Jakarta—though violent and disruptive—resulted in relatively few casualties, five attackers killed (two by their own explosive devices) and only two civilians. 20 people were injured. ISIS took credit for the Jakarta attacks.

Related Thursday Review articles:

Has ISIS Begun Losing Ground?; Keith H. Roberts; Thursday Review; January 5, 2016.

Recent Airstrikes Killed Some Paris Attackers; Keith H. Roberts; Thursday Review; December 29, 2015.