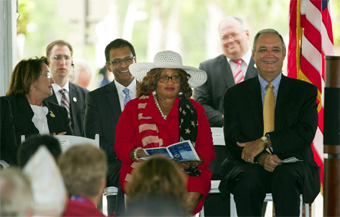 Images courtesy of U.S. House of Representatives/
Office of Corrine Brown
Corrine Brown's Legal
Troubles Deepen
| published July 12, 2016 |
By Earl Perkins, Thursday Review features editor
A North Florida congresswoman who has survived a dozen political scandals—the sorts of fracases generally fatal to most politicians—is now facing her most formidable legal and ethical storm yet, and one which may prove too serious to survive. She and her allies say she is being targeted as part of an ongoing political attack. Prosecutors say she is guilty of a long list of crimes, and they have a trail of money to prove their case.

U.S. Rep. Corrine Brown of Florida pleaded not guilty Friday to numerous charges including mail and wire fraud, conspiracy, theft of government property, obstruction of justice, and filing false tax returns, according to CBS News affiliate WJAX, Florida Politics, The Washington Post, and media releases of the U.S. Attorney's Office and the U.S. Justice Department.

Facing more than 350 years in prison and almost $5 million in fines if convicted, the 69-year-old Democrat represents the Jacksonville-based 5th Congressional District, having been a Northeast Florida Congresswoman since 1993 and widely noted as one of the first three African-Americans elected to Congress from the Sunshine State since Reconstruction.

Brown and her Chief of Staff, Ronnie Simmons, entered not guilty pleas on all charges in Jacksonville federal court. Both were charged in a 24-count indictment following a probe into their association with One Door for Education Foundation Inc., a Virginia company that appears to have been a phony charity from which three people converted almost $800,000 for personal use, according to federal prosecutors.

Simmons, a 50-year-old Laurel, Maryland resident, faces a maximum of 355 years in prison and almost $5 million in fines for his involvement. Both defendants were released on $50,000 bail and ordered not to leave the country, pending a status hearing scheduled July 26. Simmons, Brown's chief aide since 1993, declined comment following his court appearance, but the congresswoman headed straight for the nearest microphone to address supporters outside the courthouse.

Several carried and waved signs, with one reading "Justice or else. Corrine matters." And then she stepped to the makeshift lectern to address constituents.

"My heart is just really heavy. But I'm looking forward to a speedy day in court to vindicate myself," Brown said. "We will present the other side."

And one of Brown's underlings dutifully handed small cash honorariums to "supporters" as they returned signs, no doubt for storage until the next "spontaneous" rally. A fine touch highlighting the depths to which politics in America have fallen in a few short generations.

Carla Wiley, former executive director of One Door for Education, pleaded guilty to conspiracy to commit wire fraud in early March and testified concerning the involvement of "Person A," a public official who was named Friday in federal documents as Rep. Brown. Citing Wiley's ongoing cooperation in the court case, a judge moved her sentencing trial from June 13 to December 12.

The following comes from Friday's unsealed indictment:

"Brown, Simmons, and [charity head Carla] Wiley used more than $200,000 in One Door For Education funds to pay for events hosted by Brown or held in Brown's honor, including a golf tournament in Ponte Vedra Beach, Florida; lavish receptions during an annual conference in Washington, D.C.; the use of a luxury box during a Beyonce concert in Washington, D.C.; and the use of a luxury box during an NFL game between the Washington Redskins and the Jacksonville Jaguars in the Washington, D.C. area."

One Door, touted by Brown as a charity designed to assist disadvantaged students with scholarships, turned into a house of cards soon after she, Simmons and Wiley evidently plundered all but $1,200 of $800,000 raised for the organization by supporters, community leaders, volunteers and friends. Federal investigators say that the paper trail of that money also shows proof that a substantial portion of the money raised by One Door ended up in Brown's personal bank account.

Brown has written on her blog that her unfortunate legal battles bear some resemblance to the horrifying events of the last week—implying that her court appearances are equivalent to police shootings of African-American men and a massacre of five police officers in Dallas, Texas. Her critics, who are numerous, point to this strange and awkward comparison as evidence of her disconnection from reality.

Nevertheless, the fact that the Feds can trace money directly from charitable events to her personal bank account represents the sort of smoking gun that generally translates into jail time and financial restitution. It may also spell the end of Brown's long political tenure in the Capitol Building.

However, whether or not you care for Corrine Brown, this single outcome could adversely affect almost every citizen in Northeast Florida for decades. Ander Crenshaw, U.S. Representative for Florida's 4th Congressional District, recently announced he was retiring from office, leaving Brown as the area's senior legislator in Washington.

Here's the CliffsNotes version of their constituents' future. Everybody pays taxes, whether you think that or not. Each item you touch is taxed in some shape, form or fashion, with a fair percentage being forwarded to somewhere near where Robert E. Lee's front yard used to be located which is to say Washington, D.C.

Senior legislators dictate where funds are allocated, so the greater Jacksonville area is going from two long-time legislators to none in the blink of an eye. Do your research and you'll realize it usually takes decades for politicians to "work their way up" a committee ladder. I hope you believe in reincarnation, because you'll be fortunate if your children see the fruits of your labor.

Regaining the leverage and influence lost by both Republican Crenshaw and Democrat Brown will take years, possibly decades, leaving northeast Florida near the back of the line for things like military expenditures, highway improvements and major infrastructure projects. Those who have worked with Brown say she delivers on what she promises, and Brown's supporters stress that if she eventually loses her place in Congress, northeast Florida will lose an effective legislator with the sort of clout who can get things done with one simple phone call.

But getting back to matters at hand, it wouldn't totally surprise me if Brown never saw the inside of a jail cell. Her tenure as a "public servant" is overshadowed by numerous accusations of impropriety and malfeasance, but Brown always seems to land on her feet—and sometimes on somebody's throat, figuratively speaking. A few of Brown's cohorts will almost certainly be thrown under the bus, as the expression goes.

Following an unsuccessful lawsuit to stop changes to her gerrymandered congressional district, Brown planned to seek re-election in a newly-redrawn, predominantly black district stretching through areas of Orlando, one which she deemed more conducive to her political chances. Her previous district stretched from parts of Jacksonville through Palatka and down into Orlando in a complex, serpentine region carved out painstakingly for its majority of black voters. Ultimately, that snakelike district was deemed inappropriate.

Instead, she must now face "re-election" in a district which stretches westward toward Tallahassee, through Lake City and other largely white communities, and where she faces a formidable challenge from another experienced African-American legislator, Al Lawson. A third candidate, Lashonda Holloway, trails Lawson and Brown in recent polls. The election may prove to be Brown's most challenging contest yet, and one which will require the majority of her time.

However, in light of recent events concerning One Door, she might be busy elsewhere, considering that federal court rules require a trial to occur within 70 days unless a judge allows a change. The discovery phase should take a couple weeks, with a special status conference scheduled August 12 and a trial set for September 6. Assistant U.S. Attorney General Leslie Caldwell has also taken a dim view of the One Door shenanigans.

"Congresswoman Brown and her chief of staff are alleged to have used the congresswoman's official position to solicit over $800,000 in donations to a supposed charitable organization, only to use that organization as a personal slush fund," said Caldwell, chief of the Justice Department's criminal division. "Corruption erodes the public's trust in our entire system of representative government."

The indictment says Brown, Simmons and Wiley "used the vast majority" of One Door donations for personal and professional benefit, including tens of thousands of dollars in cash deposits that Simmons made to Brown's personal bank accounts. Several hundred thousand dollars were evidently siphoned off between 2001 and 2016, benefiting Brown and her cronies, according to the indictment.

"Our office is committed to ferreting out and prosecuting all forms of corruption and fraud, regardless of who the offender is," said U.S. Attorney A. Lee Bentley. "In our nation, no one is above the law."

Documents previously reviewed by The Associated Press included invitations bearing the seal of the House of Representatives shilling for the "Corrine Brown Invitational, a golf tournament sponsored by One Door and scheduled to coincide with a freight and rail industry symposium in Jacksonville." Potential donors attending the event received letters with Brown's signature and official House seal urging donors to give between $125 and $20,000 to One Door, according to Wiley plea agreement.

The invitation states donations would benefit a scholarship fund for the Jacksonville chapter of the Conference of Minority Transportation Officials (COMTO), among other charities, but a government probe discovered no charities received any money raised from the tourney.

Controversy has dogged Brown much of her public life, dating to September 1990, when she encouraged Jacksonville officials to redirect federal grant money from other projects to One Stop Economic Development Center. The business incubator was started by Brown's friend, Rev. Alvin Moore, and after the organization famously failed, the federal government forced the city to return $313,818 that was milked off.

In December 1993, the Florida Commission on Ethics concluded a probe of Brown's tenure in the Florida House of Representatives, stipulating to a misuse of public position. Accusations included the fact that state employees worked for Springfield Travel Agency, which was a business owned by Brown. She was able to avoid punishment by ponying up $5,000. That same year she was investigated for allowing an aid to commit forgery by signing a treasurer's signature on financial documents. Brown's answer was to retain the staffer for five years, eventually promoting the person to Chief of Staff.

The following November an FEC audit revealed Brown's 1992 campaign violated several campaign finance laws, including using a corporate plane without showing she paid for its use and for improperly accepting donations from companies and foreign citizens.

These dustups were followed up in 1998 by a couple more questionable and high-profile events. After accepting a $10,000 check from National Baptist Convention President Henry Lyons, she improperly converted the funds into another check and redirecting monies to a tour bus company. That was followed up by intense scrutiny from the Congressional Accountability Project when her daughter, Shantrell Brown, accepted a luxury automobile worth $50,000—approximately her entire annual salary—from an associate of a Gambian multi-millionaire and lobbyist.

The gift followed enthusiastic entreaties from the Congresswoman to keep Toutanga Dit Babani Sissoko from imprisonment; the same businessman who would soon be incarcerated in a Miami Federal prison for attempted bribery of U.S. Customs officials.

Federal authorities questioned whether the gift was connected to Brown and her zealous pleading to then-U.S. Attorney General Janet Reno that Sissoko be quickly released and deported to his homeland. These are just a few of the numerous questionable actions associated with Brown during her career in the spotlight, but nothing ever seems to stick despite cases which would appear, at first examination, bulletproof.

Brown says it is all part of a long pattern of deliberate political attack by her opponents, and she tells her enthusiastic supporters that she intends to weather this storm as well.

Related Thursday Review articles:

A Congresswoman Versus the Feds; Earl Perkins; Thursday Review; May 22, 2016.

A Politically Perfect Storm for Corrine Brown; Earl Perkins; Thursday Review; March 24, 2016.