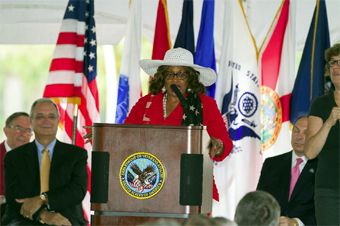 Images courtesy of U.S. House of Representatives/
Flickr
A Congresswoman Versus the Feds
| published May 22, 2016 |
By Earl Perkins, Thursday Review features editor
Following an onslaught of accusations concerning improprieties associated with U.S. Representative Corrine Brown covering several decades, federal agents recently questioned former Jacksonville City Council candidate Mincy Pollock about his dealings with Brown and a Virginia-based business, according to News4Jax I-team reports and other media sources.

Pollock initially refused to speak with reporters, but his former supervisor, Rev. Anthony Beeks, was more than forthcoming with information, producing copies of checks he forwarded to the FBI that Pollock evidently signed and deposited in an account of One Door for Education, whose president awaits sentencing on fraud charges.

One would hesitate to use the word alleged because almost all facets of these events are public record, but suffice it to say the stories are common knowledge and have been widely reported in the media. Then it also must be considered that the Jacksonville Congresswoman is facing bigger issues. One Door Director Carla Wiley, has already pleaded guilty to conspiracy to commit wire fraud, and Brown supposedly benefited financially from the bogus charity.

A glorified slush fund, Brown widely publicized One Door as a charitable scholarship foundation to help disadvantaged young people, but it was never properly incorporated. The fund received $800,000, with only one scholarship for $1,000 being awarded, while the remainder was redistributed to several other individuals, according to federal investigators. It seems funds were diverted to host parties at luxury hotels in Washington, DC, to pay for a fundraiser at an arena luxury box during a concert, and even allegedly used to buy alcoholic beverages and food for a large reception.

Brown, who represents Florida's 5th congressional district, certainly has a checkered past, but I think she's sandbagging—again. She's been accused of numerous transgressions, but nothing ever seems to stick. There was the time in 1998 when she accepted a $10,000 check from National Baptist Convention President Henry Lyons, and then improperly converted funds into another check before redirecting monies to a tour bus company. She faced a House inquiry over that dustup, but her peers certainly didn't want their personal histories exposed to the general public, so here we go again.

And you may recall the time Brown faced intense scrutiny by the Congressional Accountability Project when her daughter, Shantrell Brown, accepted a luxury automobile worth $50,000 from the underlings of a Gambian multi-millionaire. The gift followed a feverish campaign by the Congresswoman to keep Toutanga Dit Babani Sissoko from imprisonment; the same businessman who would soon be incarcerated in a Miami Federal prison for attempted bribery of U.S. Customs officials. The Feds were questioning whether the gift was connected to Brown's overzealous entreaties to then-U.S. Attorney General Janet Reno that Sissoko be quickly released and deported to his homeland.

But I digress...

The more recent stench concerns Brown, Beeks, Pollock and their association with money trails linked to One Door. Beeks, Pollock and Siottis Jackson were with Brown at a north Jacksonville Bono's Pit BBQ in January when she received a federal subpoena centered on the Department of Justice's probe of her actions, according to Jackson.

"As we were sitting there, these guys came in and everyone was pretty calm for the most part," he said. "They introduced themselves as, you know, agents. And they gave her some paperwork."

News4Jax was told that Jackson also received a similar subpoena, but he vociferously denied that assertion. Following Pollock's failed bid for a Mandarin City Council seat last March 24, he had taken a job working for Beeks at First-Coast Multi-Lines Insurance.

"He never told us nothing," Beeks said of Pollock. "He just said, 'We asked him why did he write them. He said it's at the bottom of the check,' meaning the memo section. In the memo section of the check, it said he paid him a consulting fee."

Federal agents came to Beeks' home, asking about Pollock's relationship with Brown, prompting Beeks to then fully research his records.

"I know one thing, the federal government don't play when it comes down to telling the truth," he said.

Noel Lawrence, an attorney retained for Pollock, said visits by federal agents and News4Jax were concerning, and "the whole thing is a mess."

"It's true the feds were there," he said. "I would counsel my client to not make any statement. Especially with Jackson under federal subpoena, I'm very wary."

Accusations and legal stonewalling will hold little water for the FBI as its agents pursue a fairly simple paper trail. Included in the checks Beeks provided the FBI was one Florida Blue wrote to First Coast Multi-lines Agency LLC for $25,000 on November 24, 2015, Just six days later, Pollock deposited the $25,000 check in the agency account, but received $2,500 cash back.

Then on December 1, 2015, Pollock wrote two more checks from the agency to Siottis Jackson—one for $7,850 another for $3,000—with the memo line reading "consulting." Pollock also wrote two checks from the agency to "Open Door"—one for $5,000 and the other for $3,000, with both memo lines reading "foundation donation."

When Beeks checked with SunTrust Bank concerning the transactions, he discovered the Open Door checks were deposited into a One Door for Education account. Beeks said he initially had no knowledge of the financial transfers, and upon discovering their existence, he immediately alerted the FBI.

"Two checks being written for $10,000, being broken up in two checks, $3,000 and $7,850. That threw up a flag right there," he said, "And you cashed it at two different Sun Trust banks."

Beeks also saw another red flag when he realized Pollock's check to Jackson included "consulting" in the memo line.

"I never would have thought that Corrine Brown and Siottis Jackson would be mixed up in the checks from our business, because we never do business with them," Beeks said.

Brown had also been facing political difficulties stemming from a court order to break up her 5th congressional district, defined by the court and by public interest groups as being a classic gerrymandered district. Brown's district stretches from parts of Jacksonville in the north, following the contours of the St. Johns River, down to Central Florida, and in some areas is little more then a few hundred yards wide. The current district was carved out by Florida legislators to create U.S. House access for African-Americans who might not otherwise have representation in Congress from a large part of the Sunshine State. But there have been frequent legal challenges to the district's highly serpentine boundaries.

Brown and her staff are also facing a new challenge posed by hackers who have created a website which looks like a genuine campaign online operation, complete with buttons for making contributions and volunteering on her campaign. The site actually leads visitors to several overseas retail websites.

Related Thursday Review articles:

A Politically Perfect Storm for Corrine Brown; Earl Perkins; Thursday Review; March 22, 2016.

Congresswoman Under the Investigative Glare, Again; Earl Perkins; Thursday Review; March 7, 2016.