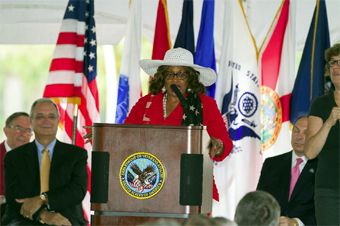 Images courtesy of U.S. House of Representatives/Flickr
Corrine Brown's Legal Fight Continues
| published February 22, 2017 |
By Earl Perkins, Thursday Review features editor
Corruption and politicians have made comfy bedfellows for centuries, but maybe there's just something special in the water around Northeast Florida.

Reggie Fullwood, a Florida House representative, recently received a slap on the wrist after initially facing 204 years in prison, coupled with 14 federal counts of wire fraud and income tax evasion. Showing vulnerability sometimes even works for men, after the Jacksonville lawmaker almost broke down in court, the judge found it in his heart to hand down a greatly-reduced sentence of three years of supervised probation for wire fraud and one year for failure to file election papers, with both sentences to be served concurrently, according to News4Jax and other media outlets.

The boilerplate says he's also facing a $60,500 forfeiture and $42,500 in IRS penalties. I'm sure he'll dream up some scenario that allows him to duck even those financial ramifications. Rarely does anyone actually pay back that kind of money. The former State House District 13 representative is scheduled to begin his sentence March 7. The court also required that he wear a monitoring device, coupled with completion of a substance abuse program and mental health treatment.

This is minimal punishment for crimes committed, and likely sends a message which encourages others to follow in his footsteps.

A former rising star in local Democratic circles, Fullwood was sentenced to 180 days of house arrest, which under Florida law usually means home confinement unless the lawbreaker finds a desire to attend a function which can be remotely associated with school, work or church. The man will not miss a beat, and you may recall the Northside pol made headlines a couple years ago after failing to file paperwork for reelection in a timely fashion, forcing the state to pay for a special election which he won handily.

Politicians who steal from voters or break laws cause major financial issues from which citizens never fully recover. That is money which could have helped everyone; but now our duly elected representatives will wring their hands and cry about the downtrodden poor. They don't cut unnecessary or frivolous pork projects, because that won't line their pockets or have the desired effect you get when threatening to financially cripple children and the elderly. That will get their attention.

If people who hurt others are inconvenienced enough, they will quit causing damage to others. The solution seems simple enough: send them up the river for lengthy prison sentences, and transfer them every few months to avoid continuity and comfort in their lives. But, you say, that will take them away from their families. Do you actually think they were hoping to improve the lives of constituents by stealing public money from taxpayers? The government's answer to the problem is to print more money, which means every country on Earth except for this nation instantly becomes stronger while our financial condition weakens. But I digress...

Former U.S. Rep. Corrine Brown is the region's biggest fish to face possible prosecution in the near future. The longtime Northeast Florida legislator and political gadfly was recently sent home after 24 years in Washington, with Tallahassee's Al Lawson now representing Florida's newly-drawn 5th Congressional District. Following 28 years in the Florida Legislature, the third time proved a charm for the longtime Democratic lawmaker as he beat Corrine in the August primary, followed by an overwhelming November runoff victory over Republican Glo Smith.

Brown is now the final defendant standing associated with the One Door for Education fiasco, a dummy company the congresswoman and two cohorts created to suck money from unsuspecting donors who thought they were helping underprivileged youths. The contributions, many of which came through posh special events such as golf tournaments, were meant to provide scholarships for disadvantaged kids with high academic potential. Instead, out of the hundreds of thousands of dollars raised, only one scholarship totaling $1200 was handed out.

Meanwhile, more than $800,000 went missing, much of it apparently used as seed cash for more upscale events—luncheons, dinners and receptions, more golf tournaments, trips, high-end tickets to concerts and lux sporting events—all of which served only as political lubricants for Brown and her colleagues.

Brown is worse than a leech, because at least the bloodsucking worm falls off its victim after filling up, knowing it might return later to once again sate its thirst. However, the former congresswoman victimized taxpayers for several decades, living the high life while hobnobbing amongst the rich and famous.

Carla Wiley, former president of One Door for Education, and Ronnie Simmons, Brown's longtime chief of staff, reached plea agreements with the Federal government in the past year, leaving Brown as the final defendant. Two weeks ago, Simmons pleaded guilty to single counts of conspiracy to commit mail fraud and wire fraud, and theft of government property, a decision which "blindsided" Brown, according to Brown's attorney, James Smith.

The extremely colorful Brown has vowed to continue fighting federal charges of conspiracy and violation of tax laws, coupled with mail and wire fraud. Following several months during which Brown's attorneys artfully deployed delaying tactics, her trial is currently scheduled for April 26 and could last about a month. Prior to that, Brown churned through several teams of lawyers, some of whom may have bailed out for fear of non-payment, and some of whom surely had strategic differences with Brown.

Simmons, 51, will be sentenced following Brown's trial, and could land behind Federal prison bars for up to 30 years. The Laurel, Maryland, resident had faced the possibility of more than 350 years in prison if convicted on all 18 charges brought against him in a July indictment. I guess he saw the light, but the jury is still out on his former boss and mentor.

"I don't do sign language. What is the sign language to show that you have a broken heart? Because I do have one," said Brown to the television cameras and print reporters following Simmons' plea deal. "But I do have a mouthpiece. The Lord sent him to me. I'm happy with my representation. And he speaks for me."

At the time, Judge Timothy Corrigan denied Smith's appeal for a 60-day delay on his client's trial, and Brown has until March 16 to decide if she'll accept a plea bargain on 22 federal charges. She could also receive another continuance March 9 if her legal counsel can show progress on her defense and justification as to why they would not be ready for trial by April. If the court does not receive another motion for delay, then the trial would proceed as scheduled.

An indictment of Brown and Simmons was handed down in July, accusing the duo of using One Door, which was never properly registered as a charity, as a personal "slush fund," according to prosecutors. The two were accused of using the "charity" to raise approximately $800,000, and then withdrawing almost all the funds for personal use. Simmons admitted the company was a sham and that Brown knew that from its creation, and furthermore, she used her profile and reputation to encourage potential donors help fund the supposed "charity."

"This is someone she trusted for decades. He was her chief of staff, and she related to him like a son," Smith said. "She always thought he had good character and integrity. She is more saddened than anything."

After Simmons' plea change, Smith said prosecutors discussed a "possible resolution" ahead of trial in Brown's case, but he claims that is now "absolutely not" possible.

"Congresswoman Brown, from the very beginning, has maintained her innocence and she's going to continue to do that throughout the trial," he said.

Facing an uphill battle, the litigator is placing a hugely-positive spin on a case many attorneys say is totally unwinnable.

"It was always going to be tough. You're going up against the power of the United States government," Smith said. "They have an unlimited budget and three skilled prosecutors, and they have the benefit of the perception from the public that if you are charged with a crime then you've done something."

But he said Brown's "excellent reputation for honesty and truthfulness" among Duval County constituents could help her case. He actually said that with a straight face. Flanked by supporters as she left the Federal Courthouse, Brown bellied up to a bank of microphones, accompanied by Martin Luther King III.

"I've known her for 25 years, and I know this community knows who this woman is," he said.

"Secondly, we have the facts on our side," Smith said. "Obviously, I'm not going to try the case in the media but we have some important facts that haven't been revealed yet which we think will shed this case in a different light."

Government prosecutors will soon provide the defense with several hours of interviews with Simmons, accompanied by numerous bank records and additional evidence. Smith had originally hoped to claim Wiley had duped her cohorts, but his strategy will radically change following Simmons' revelations.

"I think the fundamental question is going to be, When was he telling the truth? Was he telling the truth before or is he telling the truth now?" Smith said.

Prosecutors say Simmons will prove the scheme to defraud includes not the bogus charity, but also the Friends of Corrine Brown PAC and the Jacksonville-based Alexander Agency, operated by longtime Brown friend and confidante Von Alexander. The government's case may prove that much of the disputed money was cycled through all three entities at will.

Related Thursday Review articles:

Out of Congress, Brown's Troubles Far From Over; Earl Perkins; Thursday Review; October 18, 2016.

Corrine Brown Intends to Fight for Political Survival; Earl Perkins; Thursday Review; August 14, 2016.