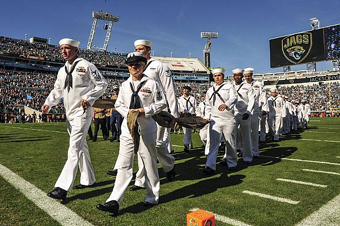 Photo courtesy U.S. Navy
NFL Recognizes Veterans and
Service Members
| published December 2, 2015 |
By Thursday Review staff
As part of the National Football League's commitment to honoring veterans and active service members, sailors in Jacksonville, Florida walk across Everbank Field after participating in ceremonies, which included a large U.S. flag and an aerial flyover by U.S. Navy jets before a crowd of about 81,000 fans. This photo was taken during an NFL game between the home team Jacksonville Jaguars and the visiting team San Diego Chargers.

The NFL recognizes November as "Salute to Service Month," which includes celebrations and recognition of not only active and retired military personnel, but also their families.

This U.S. Navy photograph was taken by mass communications specialist 3rd class Timothy Schumaker.

Related Thursday Review articles:

USS Milwaukee is Commissioned; Keith H. Roberts; Thursday Review; November 23, 2015.

Fireworks Over Pearl Harbor; Keith H. Roberts; Thursday Review; August 19, 2015.