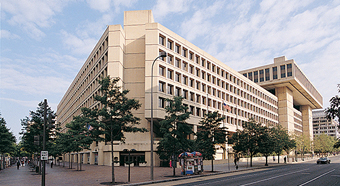 Image courtesy of Federal Bureau of Investigation
FBI Dropping Further Inquiry
Into Clinton Emails?
| published July 3, 2016 |
By Keith H. Roberts, Thursday Review contributor
CNN is reporting that unnamed sources within the campaign of Hillary Clinton, along with unnamed sources within the Justice Department, are certain now that despite four hours of interviews with the former Secretary of State on Saturday, the FBI will not proceed with charges against Clinton in regard to her use of a private email account and a private computer server.

Though CNN does not make clear how high up the Justice Department source is, the network considers the information reliable and a likely harbinger of the outcome of a long investigation into Clinton's unauthorized, and some would argue rule-breaking use, of an email account not secured by government servers.

If true, the FBI's decision to not pursue any further charges against Clinton means that the former Secretary of State—now the presumed nominee of the Democratic Party—may finally be able to put the persistently negative issue of the emails behind her so that she can complete her pivot toward GOP presumptive nominee, businessman Donald Trump. Though both Clinton and Trump have amassed enough delegates to secure their respective party's nominations, both are awaiting political conventions to make official the outcome of a long season of bitterly-fought primaries and caucuses.

The FBI probe began after it was revealed that during her tenure as the top American diplomat, Clinton eschewed the use of a government-issued and maintained email address, and opted instead to stick with a private email address. That email address was at the time linked to a server inside her private home in Chappaqua, New York. That server was in turn linked to a local broadband internet service with public-facing access, the same kind most Americans use to gain access to the internet. The account was set up by one of Clinton's staffers, and the billing address used was—for a while at least—the same Post Office box address as that of the Clinton Foundation.

The FBI wants to know if laws related to national security were violated, or if Clinton engaged in any form of sensitive communication, correspondence or data transfer that might have put U.S. secrets at risk. FBI investigators have also been looking closely to see if Clinton, or her staff, broke federal laws or guidelines when some 29,500 emails were deleted at the end of Clinton's tenure at the State Department. In early 2015, the ensuring brouhaha became a formidable drag on her campaign, and seemed at times to threaten her status as front-runner for President in 2016.

Clinton has repeatedly said that she broke no rules and violated no state security measures with the use of her private email account and the now infamous homebrew server, both of which she maintains were choices of convenience, not a means by which to avoid transparency or accountability. The top brass within the Clinton campaign would certainly like to move on, and leave the issue of the unauthorized email accounts behind.

In addition, the FBI and other federal investigators are hinting that they are reaching the conclusion of the year-long probe, and that soon the files and documents will be stored for posterity.

News that the FBI plans no prosecution and no deeper investigations would, in essence, liberate her campaign narrative once and for all, and help to start to dispel the perception—even by many Democrats—that Clinton is "not trustworthy," a persistent problem in a variety of polling.

But some Republicans in Congress, within the RNC, and in heavyweight GOP circles say "not so fast." A few are pointing their fingers directly at an inopportune meeting held on the tarmac at Phoenix's Sky Harbor Airport last week between former President Bill Clinton and current Attorney General Loretta Lynch as evidence that a deal has been struck by parties on high.

Bill Clinton has maintained that the meeting with Lynch was an innocent, completely chance encounter, and that the only topics discussed while they were alone for some 35 minutes aboard Lynch's plane was golf and grandchildren. Hillary Clinton has dismissed the brief meeting as a non-issue, though she acknowledges that it raises questions of appearances. Trump pounced within the first day, and has called the informal but secret meeting "horribly inappropriate." He also tweeted this weekend that the rumors indicating that the FBI would back off of any charges against Clinton is proof positive that the "system is totally rigged."

Reporters want to know more about that 35 minute private confab, and even though it is not clear that the former President used the time to actually lobby Lynch to minimize the investigation in his wife's email account, many journalists suggest the optics of such a private meeting will now produce a fresh flurry of concerns—that influence and pressure was brought to bear on an investigation with very real consequences for the election, now just months away.

The rapid conclusion of the FBI's long probe into Clinton's email and server come only weeks after an Inspector General report blasted Clinton for a "deliberate violation" of State Department guidelines and federal rules. The IG report also criticized the State Department for a climate in which employees were told, in essence, to stop asking questions about Clinton's use of the now controversial private email account. The IG's report also coincides with unverified talk by hackers in Eastern Europe, most notably the super hacker known as Guccifer 2.0, who claims he gained easy access to Clinton's server and those thousands of emails. That hacker, jailed in Romania but awaiting possible extradition to the United States, has since conveyed thousands of emails to the website Wikileaks.

Republicans say that Bill Clinton's encounter with Lynch at the airport was anything but a chance meeting, and some suggest that far more sensitive issues than golf and grandkids were discussed. Many Republicans and even plenty of Democrats say that the meeting is yet another example in a lifetime in politics of the Clinton's behaving as if the rules do not apply to them, or that—in the most charitable interpretation—they merely operate by their own set of rules.

Trump suggested that the meeting is an example of something far more sinister that two people believing that they exist outside of the same parameters which apply to others.

"What she did was wrong," Trump said. "What he [Bill Clinton] did was stupid."

The Republican Party also pounced, calling the meeting a clear-cut case of corruption and conflict of interest.

"The American people need to have confidence that the Obama Justice Department is conducting a fair and impartial investigation," RNC chairman Reince Priebus said in a statement. "But when the Attorney General meets secretly with Bill Clinton just days before Hillary's interrogation is conducted discreetly over a holiday weekend, it raises serious concerns about special treatment."

The questions are not limited to Republican partisans. Some in the media are especially unsurprised by the unfortunate timing and poor judgment.

"At a time when she must sharpen her arguments against Trump as unfit for the Oval Office," write Maeve Reston and Stephen Collinson of CNN, "Americans were once again reminded of Clinton's greatest political liability: questions about character and honesty that swirled around her and her husband during two terms in the White House in the 1990s and have endured to this day."

Clinton's tough primary battle fight with Vermont Senator Bernie Sanders has finally ended, though it is not clear that Sanders will go easily into the sunset once the convention doors open in a few weeks. Clinton's focus now is on Trump, her presumptive rival in a race shaping up in the public mind as a choice between two particularly unpleasant political options.

Though Trump's negative polling is a major factor for the GOP, Clinton's negative poll numbers are among some of the worst ever seen, and may yet prove to be a long-term problem for Democrats. The events of the last few days will do little to help her refocus her campaign narrative and regain the high ground after a bruising series of battles with Sanders, and Bill Clinton's ill-timed meeting with Lynch may even reinforce the view of some voters that neither Clinton nor Trump can be fully trusted.

Nevertheless, Clinton will engage in a Herculean effort next week—assuming the rumors of the FBI's intention to wrap up their investigation are true—to push her narrative forward and fully into a general election choice between Trump, whom she says is unqualified to be President, and herself—a proven leader with years of experience in Washington.

Trump's goal in the meantime will likely be to take as many shots at Clinton as possible while the ordnance remains fresh. If Trump can raise enough doubts about the veracity of the FBI's investigation by claiming that Bill Clinton pressured Lynch, the Justice Department, and perhaps even the White House, into backing off of a legitimate probe into reckless behavior by Hillary Clinton, then Trump may be able to reverse some of the damage caused by his self-inflicted wounds of the last few weeks.

Polling—which in late May and early June indicated a tightening race—has in recent days shown Clinton with a slight uptick, perhaps inching away from Trump as she moves deftly into the national consciousness as the general election favorite. The question now is will Bill Clinton's latest misstep regarding the investigation into his wife's emails serve to level the field for Trump, allowing the race to narrow again only weeks before Democrats convene to make Hillary Clinton the party's nominee.

Related Thursday Review articles:

Clinton VP List Narrowed to Warren, Castro, Kaine?; R. Alan Clanton; Thursday Review; June 23, 2016.

Email Controversy Expands for Hillary Clinton; R. Alan Clanton; Thursday Review; May 27, 2016.