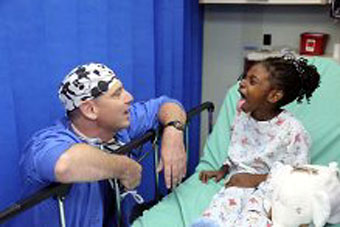 Photo courtesy of Department of Defense
Open Wide
| published August 6, 2015 |
By Thursday Review staff
In Roseau, Dominica, a young patient is examined before surgery by anesthesiologist Cmdr. William Cavill during U.S. Navy operation "Continuing Promise 2015," a support and aid operation conducted by the U.S. Southern Command. Cavill, from Wild Rose, Wisconsin, will monitor the child while her surgery is conducted aboard the USNS Comfort, a hospital ship deployed from Pensacola, Florida to the Caribbean.

Operation Continuing Promise offers humanitarian assistance to several areas of the Caribbean, and includes a wide variety of medical and dental assistance to communities and regions where modern medical practices are limited or out-of-reach.

This Department of Defense/U.S. Navy photo was taken by U.S. Army Specialist Lance Hartung.

Related Thursday Review articles:

Soccer in Singapore; Thursday Review staff writers; Thursday Review; July 20, 2015.

A Memorial Made of Flags; Thursday Review staff; July 27, 2015.