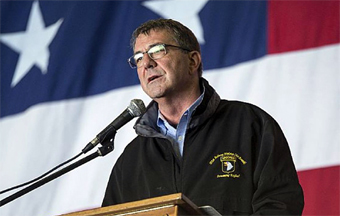 Defense Secretary Ash Carter aboard the
USS Kearsarge on December 19, 2015/
photo by Cpl. Joshua W. Brown
Pentagon to Request Troop
Increase to Battle ISIS
| published March 26, 2016 |
By Keith H. Roberts, Thursday Review contributor
The United States will soon be sending more American troops to Iraq over the next few months in an effort to step-up its ground operations against ISIS and other militant elements.

Secretary of Defense Ashton Carter and Joint Chiefs of Staff Chairman Joseph Dunford announced the personnel increases on Friday, and said that the plan to beef up troops could begin as early as next month, and may increase steadily through mid-summer. The goal of the increase, according to the Pentagon, is to continue to apply pressure to ISIS in an effort to dislodge it from key strongholds, including areas around Mosul.

The Pentagon plans will still need approval from The White House, and Dunford stressed that nothing is official until the President signs off on the additional troops.

U.S. ground forces are limited now to about 3,900—but that number is already an increase over past troop increases. Since the rapid rise of the Islamic State 30 months ago, American troop presence has increased steadily from zero to the current 3,871 in country. But even that number is subject to flexibility—and concern, for some in Congress—since the Pentagon also acknowledges that the actual number of troops currently on the ground in Iraq, adjusted for temporary deployments and support personnel—may already exceed 5,000.

The exact troop increase being requested by the Pentagon has not been announced, but military analysts and Pentagon sources suggest that Carter and Dunford may ask the White House to authorize an additional 1,250 soldiers, bringing the grand total of U.S. forces in the war-torn country to about 6,250.

Though the Pentagon has wanted to avoid U.S. service members coming into direct, front-line contact with ISIS units—preferring instead for Americans to act as support for Iraqi troops fighting the militants—the March 19 death of Marine Sgt. Louis Cardin serves as a stark reminder that U.S. troops remain in harm's way.

Firebase Bell in northern Iraq came under heavy artillery and rocket fire for the second time in several weeks in March, the first attack coming only a few days after the secret forward base was established. The rocket attacks, in addition to Cardin's death, have led to several injuries. The Pentagon says the front-line base, set up near the town of Makhmour, was necessary in order to put close pressure on ISIS units.

Dunford stresses that the troop increase will be directed sharply toward specific objectives in the ground war against Islamic State elements, especially in "operations in Mosul."

U.S. and allied forces have made what they hope are significant strategic gains in recent weeks, and among the successes have been the confirmed death of several top ISIS commanders and officials, including a man known as Umm Sayyaf or Abu Sayyaf (a nom de guerre), a high ranking and powerful ISIS operative responsible for cash flow and sources of funding for the Islamic State and its war efforts. Sayyaf was killed in a daring Delta Force commando raid last week in Syria—a dangerous ground and helicopter operation in which no Americans were injured or killed. Abu Sayyaf counted among his gifts the ability to monetize ISIS assets, stolen or captured, including oil, which ISIS sells on both the black markets and on open markets.

Along with the death of Abu Sayyaf and several of his militant comrades in the raid, the Delta Force members captured computers, hard drives, laptops, cell phones, walkie-talkies, flashdrives and communications tools, bringing with it a rich bounty of data on how ISIS operates—including cash flow and possibly sources of income outside of oil.

The raid in which Abu Sayyaf was killed also follows the delivery into U.S. and allied hands hundreds of pages of documents stolen by an ISIS defector last month. Those documents—first reported by NBC News—may have contained a vast trove of information about the Islamic State, including the names and ranks of its fighters, names of ISIS militants in other countries, and a variety of interpersonal data—cell phone numbers, email addresses, home towns, current location.

In the meantime, the Iraqi army—with U.S. backing—says it is in the early stages of heavy counter-offensives against ISIS strongholds in several key locations, including villages and towns near Mosul.

The coalition's air campaign has been criticized by both the left and the right for its ineffectiveness in containing and stopping ISIS, which still controls a vast swath of territory in Syria and Iraq. The air campaign at one time counted among its participants the pilots and air assets of several countries, including Kuwait, Egypt, Jordan, Iraq, Qatar and the United Arab Emirates. Other countries participating have included the United Kingdom and France, along with Canada (Canada pulled out of the coalition immediately after the election of the liberal Justin Trudeau as Prime Minister.

Even as the U.S. and other countries put pressure on ISIS in the Middle East, Islamic State terror operations are expanding to include a wave of recent violence in Belgium, Nigeria, Yemen, Turkey, and the Ivory Coast. ISIS outreach stretches far beyond these areas, and just this year there have been attacks directed by ISIS or inspired by ISIS in France, Indonesia, Egypt, and Libya. In December of last year, ISIS-inspired militants opened fire inside a community center in San Bernardino, California, and five weeks later a self-described ISIS militant killed a policeman in Philadelphia.

Related Thursday Review articles:

Brussels Terror Attacks Leave 31 Dead, Hundreds Wounded; Thursday Review staff; Thursday Review; March 22, 2016.

Has ISIS Begun Losing Ground?; Keith H. Roberts; Thursday Review; January 5, 2016.