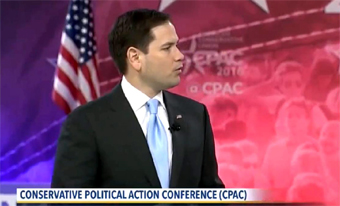 Marco Rubio appearing at C-PAC on Saturday/Image courtesy of C-Span
Rubio Blasts CNN Reports of
Campaign Shutdown
| published March 8, 2016 |
By R. Alan Clanton, Thursday Review editor
Florida Senator Marco Rubio is hitting back hard at rumors that he will drop out of the Republican nomination fight and endorse another candidate. The talk of Rubio's departure began with reports on CNN this week that indicated there had been dissent within the top echelons of Rubio's campaign, and that some advisors were encouraging him to abandon his Presidential run before the upcoming Florida primary, now a week away.

Rubio and other top spokespersons, including communications director Alex Conant, are bashing CNN for airing a report which they say may be based more on misinformation spread by other candidates than by any valid news from within the Rubio organization. Conant called the CNN report "absolutely 100% false," and called CNN's reporting "a disservice."

Conant told other reporters that CNN developed the story without consultation with any official of the Rubio campaign.

Rubio campaigned in Florida most of Monday and Tuesday, appearing at events in several cities and towns; his schedule also includes campaigning in the Sunshine State, with rallies in Sarasota during the afternoon and an evening rally at the beach community of Ponte Vedra, near Jacksonville. Florida is seen as a must-win state for Rubio, the Sunshine State's junior Senator. Rubio has won only a few primaries and caucuses since the start of the season, and has placed third or fourth in most contests.

Rivals Donald Trump and Ted Cruz have each demanded that Rubio concede, and make way for what would become essentially a two-man race. Cruz and Trump have also been made calls for Ohio Governor John Kasich to withdraw, but Kasich has said he will stay in the race and fight, at least through the primaries in several upcoming Midwestern states, including his home state.

CNN says it stands by its reporting, and insists that the information regarding infighting within the Rubio camp comes from extremely reliable sources inside the Rubio organization.

But Rubio and his team claim the reports are not only false, but yet another case of deliberate misinformation by his political rivals. Conant and others point to recent polls showing that Rubio has closed the once-formidable gap in polling in Florida, and that Rubio is poised to pull off a victory in the Sunshine State next Tuesday, when Floridians go to the polls. Early voting is already taking place in Florida, though none of those results will be counted until primary day; in the meantime, some entrance and exit polls show a gathering momentum for Rubio, and even show him with a substantial lead over Trump.

A CNN political analyst, Jamie Gangel, first reported on Monday that there was an intense internal debate within Rubio's camp over whether he (Rubio) should remain and fight through Tuesday, or drop out now, possibly throwing his support to either Ted Cruz or John Kasich. Gangel said she spoke to "senior advisors" who were concerned that Rubio would be unable to close the gap between himself and Trump before Tuesday.

But when Conant spoke to CNN's Wolf Blitzer on Monday, Conant declared the report "utter nonsense." Conant asked that CNN stop reporting it, and expressed dismay that CNN would repeat "fiction" live on the air.

Later that same day, Conant and other Rubio spokespersons used social media to counter the rumors, blasting CNN for repeating the false reports without first having asked for an official statement from the Rubio campaign. Conant followed that up with a blistering email sent to supporters and the media.

"CNN just aired a completely 100% made-up report on anonymous rumors," Conant said, "so as soon as I saw it, I made my way to CNN and demand[ed] to correct the record on air." In the email Conant called CNN "irresponsible" for reporting what amounted to unsubstantiated rumors. Conant also called the CNN's use of the report "complete malpractice."

Though several major polls show Rubio quickly closing in on Trump, chipping away at the billionaire businessman's lead in Florida, other polls show that Rubio's climb is truly uphill. The Rubio campaign can take heart from a recent Monmouth University Reasarch poll, released this week, which shows Trump leading Rubio roughly 38% to 30%. Other polls conducted over the weekend show Trump leading by an even narrower margin. All are within the range of statistical error, meaning that Rubio and Trump are in a statistical tie, at least based on those polls showing progress for Rubio.

But other polls still show Trump leading by as much as 11% (ten days ago Trump was ahead by more than 20 points in some polls). The Monmouth poll which shows Trump ahead by eight points also shows that Rubio may be leading in the early voting by a whopping 25%, indicating that a wide gap may exist among the competing polls.

CNN reporter Gangel defended her reporting, saying that the network has checked and double checked with their internal sources in the Rubio campaign. Gangel suggested that the Rubio campaign is "hiding dissent," and that there is serious debate within Rubio's camp over whether he should withdraw prior to March 15.

In the meantime, talk of a revolt within the GOP continues to ramp up, with renewed talk of a movement to draft House Speaker Paul Ryan as an alternate top tier candidate, and more discussion of a brokered Republican convention in which a reliable party elder, such as former GOP nominee Mitt Romney, would be drafted to be the standard bearer in November. Trump remains the front-runner, but the fight has intensified for control of what remains of the delegates now at stake in the remaining primary and caucus states.

Related Thursday Review articles:

Super Saturday Wins Go To Trump, Cruz; Earl Perkins; Thursday Review; March 6, 2016.

Rubio Wants Floridians to Vote for a Floridian; R. Alan Clanton; Thursday Review; March 5, 2016.