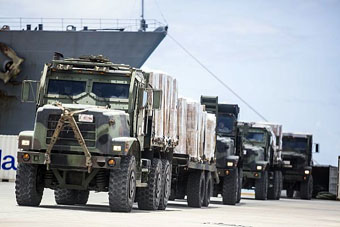 Photo courtesy of U.S. Marine Corps;
photo taken by Lance Cpl. Brian Bekkala
Typhoon Relief Efforts
| published August 14, 2015 |
By Thursday Review staff
U.S. marines assigned to the Combat Logistics Battalion 31 use massive seven ton trucks to transport relief supplies—much of it bottled water and meals-ready-to-eat—from a concrete pier near where the USS Ashland, an amphibious dock landing ship, is moored at a harbor in Saipan. The Combat Logistics Battalion is part of the 31st Marine Expeditionary Unit, which is itself a member of the Bonhomme Richard Amphibious Readiness Group.

These detachments are assisting the Federal Emergency Management Agency with the distribution of emergency relief supplies—food, water, medical supplies, batteries and tools—to those on the island impacted by the full force of Typhoon Soudelor early in August.

Related Thursday Review articles:

Open Wide; Thursday Review staff; Thursday Review; August 6, 2015.

Soccer in Singapore; Thursday Review staff; Thursday Review; July 20, 2015.