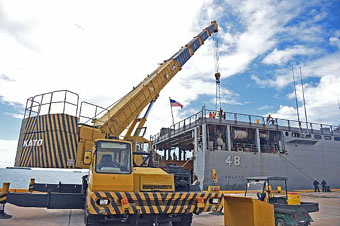 Photo by U.S. Navy
U.S. Sending Supplies to Areas Hit by Typhoon
| published August 9, 2015 |
By Thursday Review staff
A huge crane moves supplies from the flight deck of the USS Ashland to a loading platform in Saipan Harbor (Tanapag Harbor, in the Marianna Islands), on Saturday, part of a larger U.S. military operation to ferry supplies to areas hit hard by Typhoon Soudelor, which lashed out across the Pacific this week, causing heavy wind damage, flooding and power outages. In this photo the crane if offloading food, bottled water and medical supplies. Other ships have delivered tools, batteries and generators to areas impacted by the massive Typhoon.

According to the Department of Defense, the USS Ashland is assigned to the Bonhomme Richard Expeditionary Strike Group, on patrol as part of the 7th Fleet's operations in the Pacific Ocean. This U.S. Navy photo was taken by David A. Cox, mass communications 3rd class.

Related Thursday Review articles:

Open Wide; Thursday Review staff; Thursday Review; August 6, 2015.

A Memorial Made of Flags; Thursday Review staff; Thursday Review; July 27, 2015.