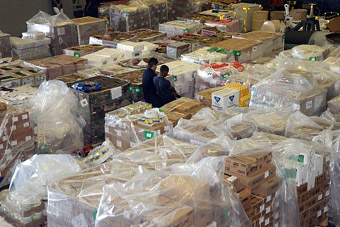 Photo courtesy of U.S. Navy
Stocking Food Aboard the USS Essex
| published December 1, 2015 |
By Thursday Review staff
Pallets of packaged food stacked some five feet high are identified, sorted and moved in preparation for storage aboard the USS Essex, a Wasp-Class amphibious assault ship currently deployed to the 7th Fleet area of responsibility in the Pacific Ocean. In this photo, Airman German Mayorga and Seaman Devin Willis unwrap and move pallets of food in the hangar bay.

The Essex is the flagship for the Essex Amphibious Ready Group, with the 15th Marine Expeditionary Unit in the Pacific. In 2012, the Essex encountered a series of mechanical problems, leading to steering failure and a collision with another ship, the USNS Yukon, during a replishment-at-sea maneuver. Both ships sustained minor damage, and each returned to port for repairs. While undergoing dry-dock repairs in San Diego, the Essex underwent an 18-month upgrade, followed by training at sea which included the rapid launching, landing, and refueling of helicopters and MV-22 Ospreys.

This photo was taken by mass communications specialist 2nd class Donavan K. Patubo.

Related Thursday Review articles:

Sunset in the Waters Near Japan; Thursday Review staff; Thursday Review; November 24, 2015.

USS Milwaukee is Commissioned; Keith H. Roberts; Thursday Review; November 23, 2015.